The Ultimate Insider's Guide to Adoption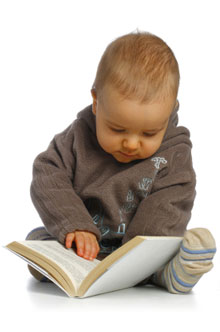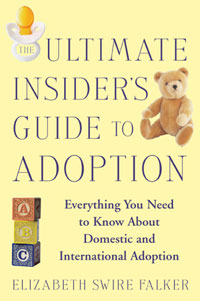 The Ultimate Insider's Guide to Adoption
Elizabeth Swire Falker
ISBN # 0446697303
Warner Wellness
Download the Flyer (PDF)
With so many children in this country and around the world in need of a loving home, why not adopt? About half a million Americans are seriously considering the myriad questions that adoption raises. Is domestic adoption the best way to go? Or is it easier, faster and more fulfilling to save a child from an orphanage a continent away? How long is a standard waiting period? How much money is required for the adoption process? What are the required procedures, the routine bureaucracies and the red flags to watch out for?
At last, there's a reader-friendly resource with answers to all these questions and more—including many prospective and new adoptive parents never even thought to ask. The Ultimate Insider's Guide to Adoption: Everything You Need to Know About Domestic and International Adoption (Warner Wellness Trade Paperback; November 2006; $15.99) takes parents through the entire adoption process, before, during and after. An attorney who practices in the area of adoption, an advisor to hundreds of adoptive families and an adoptive parent herself, Elizabeth Swire Falker brings a peerless blend of professional expertise and personal experience to the subject. From the initial paperwork to decorating a nursery, she covers the choices, the steps and the challenges with clarity and authority, genuine empathy, and welcome reassurance and humor.
"It's hard to find the straight poop on adoption," Falker acknowledges. "This book will give you the facts without telling you how you should adopt," she assures all seekers—married, single, gay, infertile and not-exactly-thirty-something anymore. "There will be no judgments made in these pages, no right or wrong way to adopt; just the information you need to become a parent and stay sane while you do so."
Filled with helpful checklists, informative sidebars, real-life stories and savvy advice, The Ultimate Insider's Guide to Adoption divides and tackles this overwhelming, emotionally-charged subject in three easily digestible parts:
I. The Adoption Dilemmas. This section explores the pros and cons of domestic versus international adoption, touching on baby age and ethnicity, birth parent contact, estimated time to parenthood and more. Parents will also get practical pointers and creative tips on two major issues: financing adoption and preparing for the infamous, anxiety-provoking home study.
II. Going Domestic. This section covers the essential aspects of adopting a baby or child right in the U.S.A. Parents will weigh the advantages of using an agency or an attorney; get clear on the differences among closed, semi-open and open adoption; learn how to design adoptive-parent profiles and market themselves to find a baby; and consider whether to shower (baby shower, that is).
III. Going International. This section offers guidance on choose a country, finding the right adoption professional (and avoiding exploitative agencies) and completing the USCIS forms and dossier. Parents will also find tips on what to pack (and what not to) when traveling halfway around the world for a baby and how to survive in a hotel and on the airplane home with a new little one.
Delving into everything from adoption insurance (is it really worth it?) to the possibility of breast-feeding an adopted infant (yes, it is possible), The Ultimate Insider's Guide to Adoption is an invaluable resource for everyone looking for a child to share their home and fill their heart.